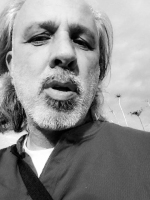 About the Artist
Born and raised in northern New Jersey, Steven Aimone spent his formative years as an artist in New York City, immersing himself in the offerings of galleries and museums. While there, he attended graduate school at Brooklyn College where he received an MFA in painting and drawing.

In 1993, Aimone left NYC and journeyed to Florida where he served as Visiting Artist in painting, drawing, and design at Stetson University. He subsequently served as Artistic Director of Arts on Douglas (commercial gallery in New Smyrna Beach) and helped found ProArt Institute, a non-profit arts organization offering fine arts courses to working artists.

In 2000, Aimone married artist and fine arts writer-curator Katherine Duncan (Aimone). In 2002, the couple formed Aimone Art Services, offering fine arts workshops and arts writing services. Through AAS, Steven has taught workshops to a wide range of audiences in venues throughout North America. His most recent book, Expressive Drawing: A Practical Guide to Freeing the Artist Within, was published in 2009.

Aimone's art works have been the subject of numerous solo and group exhibitions in New York and elsewhere on the east coast, and are represented in more than a dozen corporate and numerous private collections.
The Aimones now live and work in Rockland and Monhegan Island, Maine, in the summer, and Asheville, North Carolina during the winter.